Cape Disappointment State Park
"We start where Lewis and Clark's journey ended at the mouth of the Columbia, where the river meets the sea, holding up a mirror to reflect back upon Lewis and Clark's journey." – Maya Lin
Waikiki Beach and Baker Bay
At this site, Lewis and Clark found what they were looking for: the point where the Columbia River meets the majestic Pacific Ocean. Their journey's endpoint is where Confluence's work began, with an installation that draws together the site's bay side and ocean side, interweaving the stories of the Corps of Discovery expedition and the Chinook people in a single, steadily unfolding experience.
Visit the site today to find a restored native landscape that integrates artist Maya Lin's artwork with the site's shifting cultural and ecological history. As you walk along oceanfront dunes, read excerpts from Lewis and Clark's journals and see the Pacific Ocean as they saw it. Run your hands along the smooth surface of a fish-cleaning table formed from a single block of native basalt and inscribed with a Chinook creation story. Follow a path of crushed oyster shells inland from the coastal forest, and read the text of a Chinook song of praise along the way. Encounter a group of five cedar driftwood columns surrounding a cedar tree trunk that existed before Lewis and Clark arrived.
Confluence's Cape Disappointment site is complete and was dedicated on May 7, 2006.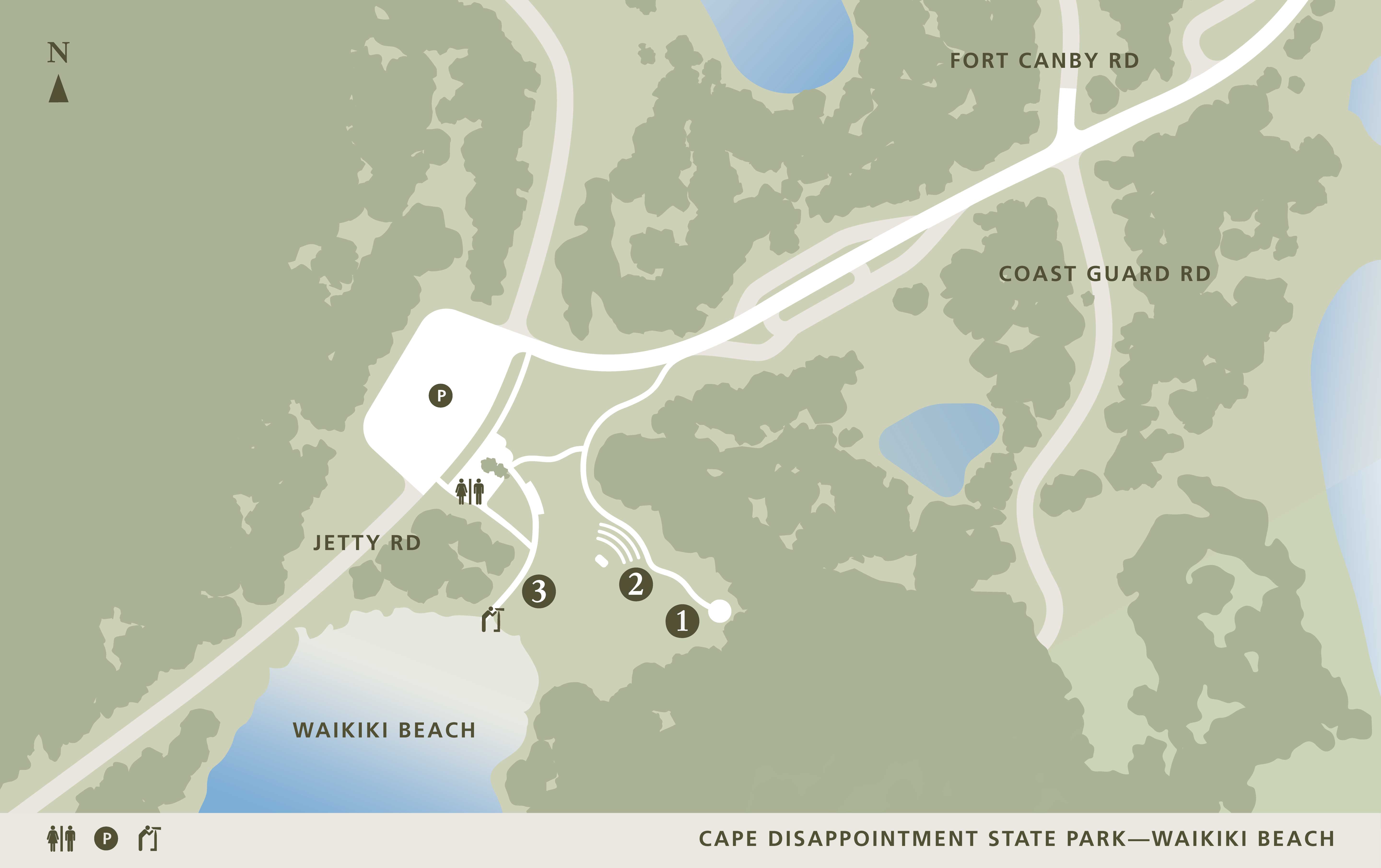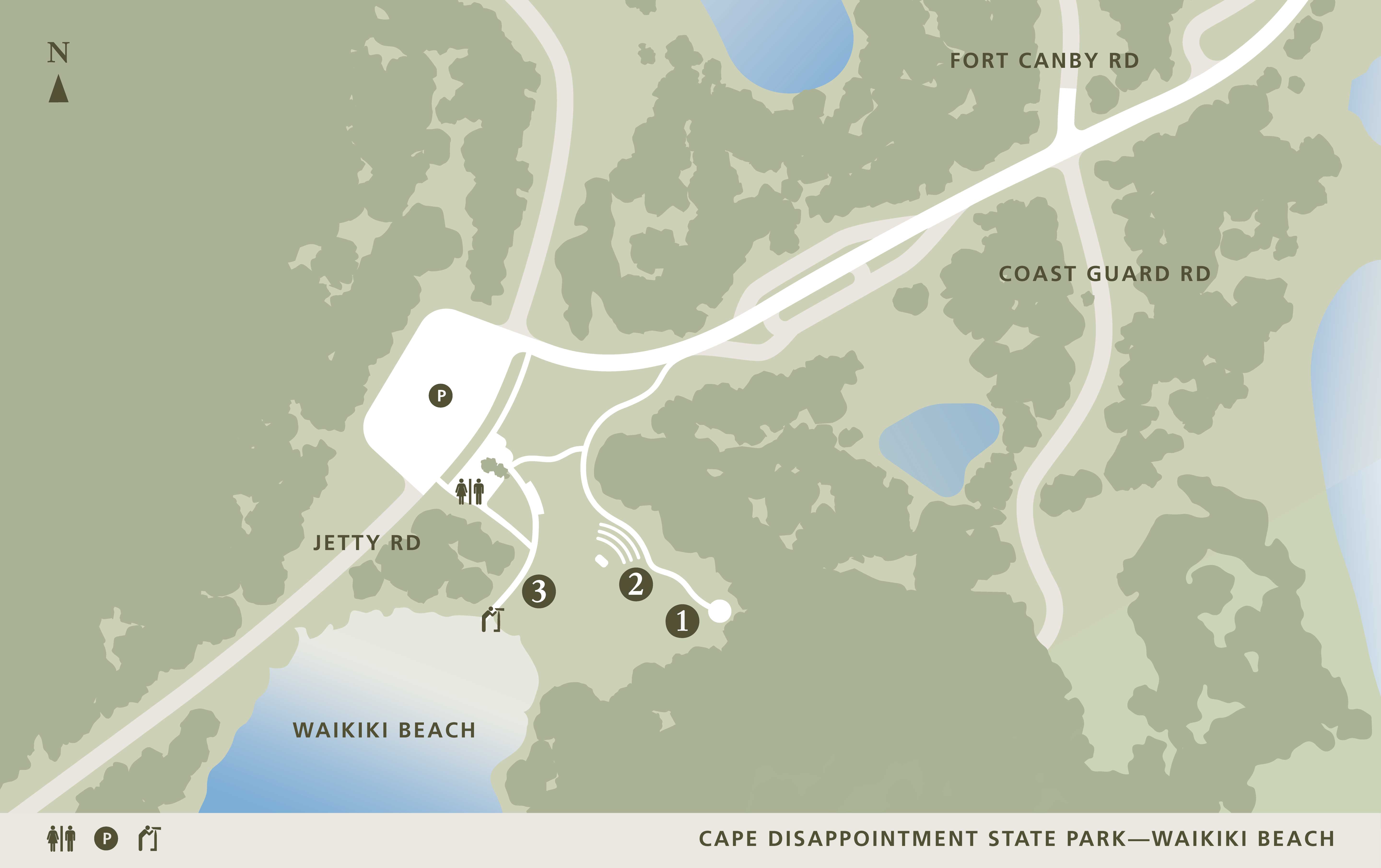 1–Cedar Circle
In a secluded grove, cedar driftwood columns surround a cedar tree trunk that predates Lewis and Clark's arrival.
2–Amphitheater and Walkway
From the existing amphitheater, a path of crushed oyster shells leads you from the coastal forest environment through dune grasses to a secluded grove. As you walk, read the lyrics of a Chinook praise song that was recited at this site on November 18, 2005, the 200th anniversary of Lewis and Clark's arrival.
3–Boardwalk
Along one of several trails at the site, learn about Lewis and Clark's 4,133-mile journey from St. Louis to the Pacific in their own words. Read text from their journals inscribed in a boardwalk that leads from an existing amphitheater to Waikiki Beach.
1–Fish Cleaning Table
Cut from a single polished block of native basalt, this artistic fish-cleaning table is inscribed with a Chinook origin legend that tells the story of the interdependence of the Chinook people and the Columbia River's salmon.
2–Overlook
A simple, curved viewing platform offers an unobstructed view of Baker Bay and its surroundings. Text from the Lewis and Clark journals etched into the surface of the platform evokes the scene and moment they finally arrived at their destination.
Directions to Cape Disappointment State Park
Take Highway 101 N to Ilwaco, WA. Continue straight onto Spruce St W and turn left onto 2nd Ave SW. Continue onto WA-100 South/Robert Gray Drive. The park entrance is at a four-way stop. Turn right to get a pass at the ranger station and see the oceanside Confluence features. Turn left at that four-way stop to see Baker Bay side sites, including the Fish Cleaning Table.
The park is open to visitors from 6:30 a.m. to 10 p.m. in the summer and from 6:30 a.m. to 4 p.m. in the winter. Tours of the Confluence Project sites can be arranged two weeks in advance of preferred dates by contacting Cape Disappointment State Park's Interpretive Center at 360-642-3029.
Note: This Washington State Park requires a Discover Pass, $30 Annual or $10 One Day. Fees may apply.
Directions