"Confluence in the Classroom supports the vision of native populations on the Columbia River and tributaries—the life experiences, a universality about those experiences and visions for the future of our shared River."
– Patricia Whitefoot (Yakama)
For the last ten years, Confluence in the Classroom has connected students to place through art and education by introducing them to native artists and culture bearers from the Chinook Nation, Confederated Tribes of Grand Ronde, Confederated Tribes of Warm Springs, Yakama Nation, Confederated Tribes of the Umatilla Indian Reservation, and Nez Perce Tribe. Together, native educators, students, and teachers embark on a year-long learning journey.  Field trips to sites with significant environmental and cultural stories are highlights of these journeys.
For more information about Education Programs, please contact Education Program Manager Heather Gurko at heather@confluenceproject.org
Residencies
Classroom teachers coordinate closely with the Confluence in the Classroom education coordinator to build programs that include 20 hours of contact time with one or more native educators. These extended residency opportunities provide time for students to respond creatively to what they have intellectually been soaking up, time for cultural and racial stereotypes to melt away and leave respect and admiration for cultural diversity in their place.
Field Trips
The program includes at least one field trip to a culturally significant place, including Confluence sites. Sites included the Sandy River Delta and the Vancouver Land Bridge, as well as non Confluence sites such as Columbia Hills State Park. The majority of the classrooms Confluence are underserved where creative opportunities have diminished just when standardized testing leaves little opportunity for inspired, diverse educational experiences.
Professional Development
Expanding Cultural Awareness through the Native Experience
This workshop is for teachers across multiple content areas, including social studies, language, science and the arts. It will provide guiding principles for teaching Tribal history as integral to understanding Oregon history. Take-home activities will be provided for educators to engage students on a journey of inclusivity that includes fostering social learning, teaching multiple perspectives, understanding implicit bias, sovereignty, and the intersection of history, culture, and place.
Collaborations
Salmon Civilization
We occasionally collaborate with educator Pamela Larsen, who comes into schools to teach it or to lead a workshop on how to teach it. Often this collaboration takes the form of one of our Native educators coming into the classroom in conjunction with her programming. Salmon Civilization connects students to the living history of Celilo Falls through art and humanities. It teaches students about the historical, cultural, and economic significance of Celilo Falls through the arts and humanities, and raises awareness that Celilo Falls is a living history that continues today. Salmon Civilization is based on the curriculum "Celilo Falls StoryPath" from the "Since Time Immemorial" Curriculum (STI). This curriculum was approved by Washington Federated Tribes and is mandatory in Washington State. See more here. 
Confluence Library
Linked to Confluence in the Classroom is the Confluence Library, which offers videos, podcasts, articles, practical curriculum resources and more that will assist educators in teaching about the Indigenous perspective of the Columbia River's history, living culture and ecology.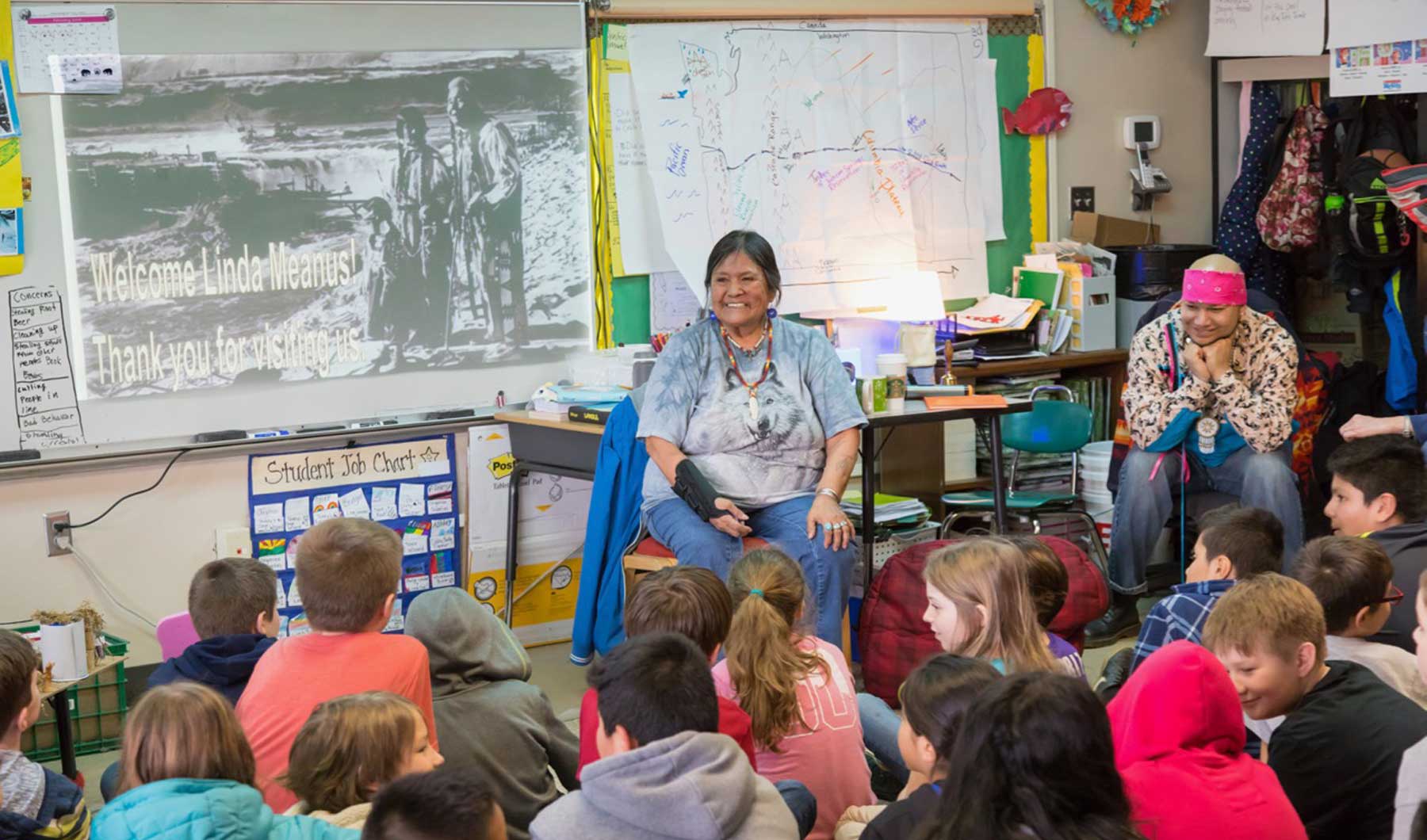 Warm Springs Elder Linda Meanus and Warm Springs educator Jefferson Greene at a school in Lyle, WA
Educators Clifton and Christine Bruno at Columbia Hills State Park