Peer reviewed by Colin Fogarty, Lily Hart, and tribal representatives
Confluence is honored to work with eight sovereign tribes from the Columbia River Basin. Each has a vast and rich history and enrolled members continue to maintain cultural, economic and environmental connections to their homelands. Here are some basic facts about each of these tribes with tribal resources to learn more.
Chinook Indian Nation
Today's Chinook Nation consists of five tribes: the Lower Chinook, Clatsop, Kathlamet, Wahkiakum, and Willapa, who share the Chinookan language. All five tribes agreed to the Tansy Point Treaty of 1855 but Congress never ratified that agreement and as a result, the federal government does not recognize the Chinook Nation. Tribal members have worked for decades to win that recognition and were successful in 2001. But that status was rescinded after 18 months.1 The fight for federal recognition is ongoing. The Chinook Nation's headquarters are located in Bay Center WA on the southern Washington coast. They are governed by a council of nine members, chaired by Tony Johnson. The Chinook Nation offers special events such as a canoe journey through their cultural council.
Learn more at https://www.chinooknation.org/
Confederated Tribes of Grand Ronde
The Confederated Tribes of the Grand Ronde Community of Oregon includes over 30 tribes and bands from western Oregon, northern California, and southwest Washington. Since time immemorial tribal people have relied on these traditional landscapes for their livelihood. The fish and game were plentiful and what the lands didn't provide, they acquired by trade. This way of life changed with western expansion. Ratified and unratified treaties between the Tribes and the United States Government from 1853 through 1855 resulted in the forced removal of tribal members from their ancestral homelands. Despite this removal, tribal members maintained their connection to their homelands. After restoration and the re-establishment of the Grand Ronde Reservation was completed, the Tribe focused on rebuilding its institutions and developing programs to meet the needs of its members, such as the Spirit Mountain Casino Community Fund, education programs, and medical services.
Learn more at https://www.grandronde.org/ and visit the Chachalu Museum and Cultural Center.
Cowlitz Indian Tribe
The Cowlitz Indian Tribe, based in what is now southwest Washington State, has over 4,000 members. The Tribe consists of Upper Cowlitz who speak Sahaptin and Lower Cowlitz who speak Salish. After decades of work, they achieved federal recognition in 2000 and a reservation in 2015. Today the Cowlitz are working on reviving traditional languages while maintaining strong cultural ties. Annual cultural events include the First Salmon Ceremony, Cowlitz Pow-Wow, and Columbia River Canoe Landing. The Tribe is governed by an elected council of 22 members and a Tribal Chair. The Cowlitz Indian Tribe protects and honors its persistent cultural identity, encouraging its ancestral landscape and all people now living in it to flourish. Learn more at https://www.cowlitz.org/
Confederated Tribes of Warm Springs
The Confederated Tribes of Warm Springs is made up of the Wasco, Warm Springs, and Paiute tribes, recognized by treaty in 1855. Its reservation in Central Oregon was established in 1879, and the confederation's constitution was adopted in 1937. The Wasco bands on the Columbia River were the eastern-most group of Chinookan-speaking Indians. They were principally fishermen and had frequent contact with other Indians throughout the region through abundant trade. The Warm Springs bands lived along the Columbia's tributaries spoke Sahaptin and moved between winter and summer villages, and depended more on game, roots, and berries. The Paiutes lived in high plains of southeastern Oregon and spoke a Shoshonean dialect. They migrated further and more frequently for game that the other tribes and fish were not an important part of their diet. Based in Warm Springs, Oregon, the CTWS offers events such as the Miss Warm Springs pageant and Pi-Ume-Sha Treaty Days.
Learn more at https://warmsprings-nsn.gov/ and visit the Museum at Warm Springs.
Confederated Tribes of the Umatilla Indian Reservation (CTUIR)
The Confederated Tribes of the Umatilla Indian Reservation is comprised of the Cayuse, Umatilla, and Walla Walla peoples. In the 19th century, these tribes were renowned for the skill with horses, which allowed them to have a wide range of cultural contact.4 Negotiated by treaty in 1855, the CTUIR reservation is located near Pendleton, Oregon. Counting more than 3,000 members, they are governed by a council of 9 member Board of Trustees, chaired by Gary Burke. Their traditional languages, Sahaptin (with separate dialects spoken by the Umatilla and Walla Walla) and Waiilatpuan (a dialect of Nez Perce spoken by the Cayuse), are currently undergoing revitalization. The Umatilla River and Grande Ronde rivers have been the focus of the tribe's fish restoration activities for several decades. Under the tribe's leadership, salmon were reintroduced in the Umatilla River in the early 1980s. CTUIR has diversified its economy beyond its Wildhorse Casino to include a thriving array of tribal enterprises.
Learn more at https://ctuir.org/ and visit the Tamastslikt Cultural Institute.
Yakama Nation
The Yakama Nation is a confederation of 14 tribes including the Yakama, Klickitat, and Walla Walla, located in Toppenish, Washington. It is governed by two councils: The General Council led by three members and a 14 member Tribal Council, chaired currently by JoDe L. Goudy. Lands ceded to the federal government during the 1855 Treaty signing included over 12 million acres of land. But tribal elders have said that their distance of travel sometimes took them as far north as Canada and as far south as California. The treaty reserved the right to fish, hunt and gather all of the tribe's traditional foods on the reservation as well as the ceded area. Yakama tribal members celebrate their Treaty Day with a parade on July 7. Their language Ichishkiin Sinwit is currently undergoing revitalization efforts. Some of the Yakama Nation work regarding wildlife and conservation includes collaborating with the Hanford nuclear site to turn abandoned intake settler ponds into fish acclimatization pools and working on sage-grouse reintroduction.
Learn more at http://www.yakamanation-nsn.gov/ and visit the Yakama Nation Museum.
The Wanapum
The Wanapum people are a small tribe in eastern Washington, based now in Grant County. They operate the Wanapum Heritage Center in Priest Rapids, WA, which features archeological finds, lifeways classes, demonstrations, and film screenings. The tribe also has a traveling bus exhibit to educate people throughout the region about their heritage. The Wanapum work closely with Grant County PUD in preserving the natural and cultural resources of the area, a relationship created by the construction of the Priest Rapids Dam in 1962 and Wanapum Dam in 1966.
Learn more and visit at https://wanapum.org/
Nez Perce Tribe
Originally, the Nimiipuu people occupied an area that included parts of present-day Idaho, Oregon, and Washington. They moved throughout this region and parts of what is now Montana and Wyoming to fish, hunt, and trade. The Nez Perce are a Nimipuutimt-speaking people based in Lapwai, Idaho. Numbering around 3,500 people, the tribe is governed by a council of 9 headed by Shannon Wheeler. The tribe reserved rights in the Treaty with the Nez Perces in 1855. But due to the discovery of natural resources on their allotted reservation lands, the federal government forced a series of revisions 1863, 1868, and 1893. The resulting "checkerboard" reservation, in which Indian allotments are intermingled with non-Indian parcels to create a complex jurisdictional landscape. The Nez Perce are currently engaged heavily with commercial projects, including casinos, cultural tourism, and construction companies, and are one of the three largest employers of northern Idaho.
Learn more at http://www.nezperce.org/
End Notes
1. Karina Brown. "After 150 Years, the Chinook Indian Nation Still Fights for Federal Recognition." Courthouse News <courthousenews.com/after-150-years-the-chinook-indian-nationstill-fights-for-federal-recognition>
2. "Trail of Tears." https://www.grandronde.org/culture/trail-of-tears/
3. David Lewis. "Confederated Tribes of Grand Ronde." Oregon Encyclopedia. <oregonencyclopedia.org/articles/confederated_tribes_of_grand_ronde/>
4. " The Confederated Tribes of the Umatilla Indian Reservation." <https://www.critfc.org/member_tribes_overview/the-confederated-tribes-of-the-umatilla-indian-reservation/>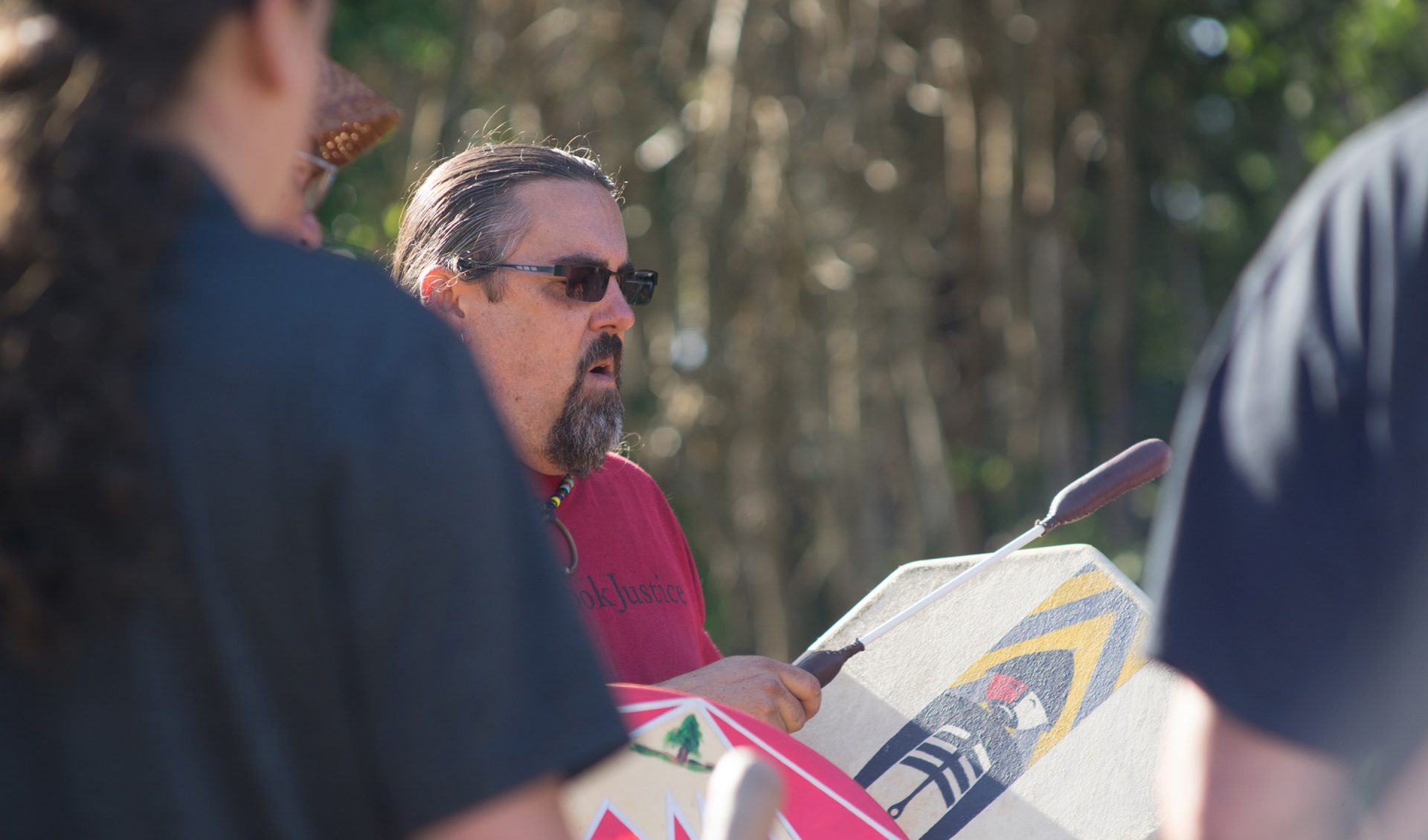 Chinook Nation Chairman Tony Johnson in a ceremony at Bay Center, WA. Photo by Elliot Fogarty.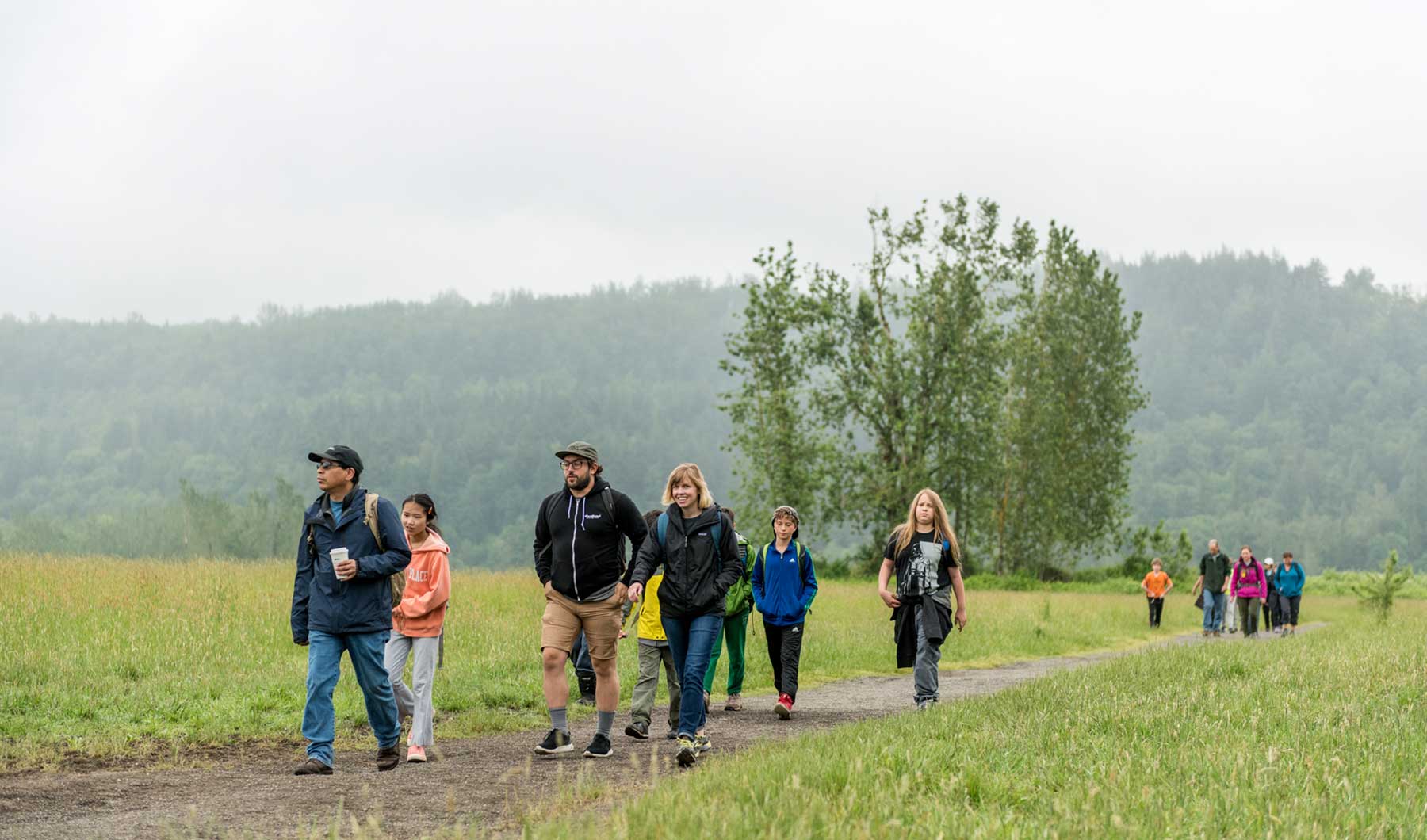 Grand Ronde educator Greg Archuleta (far left) leads kids on a field trip with Confluence in the Classroom.
Cowlitz spiritual leader Tanna Engdahl (center) leads a ceremony at Canoe Journey.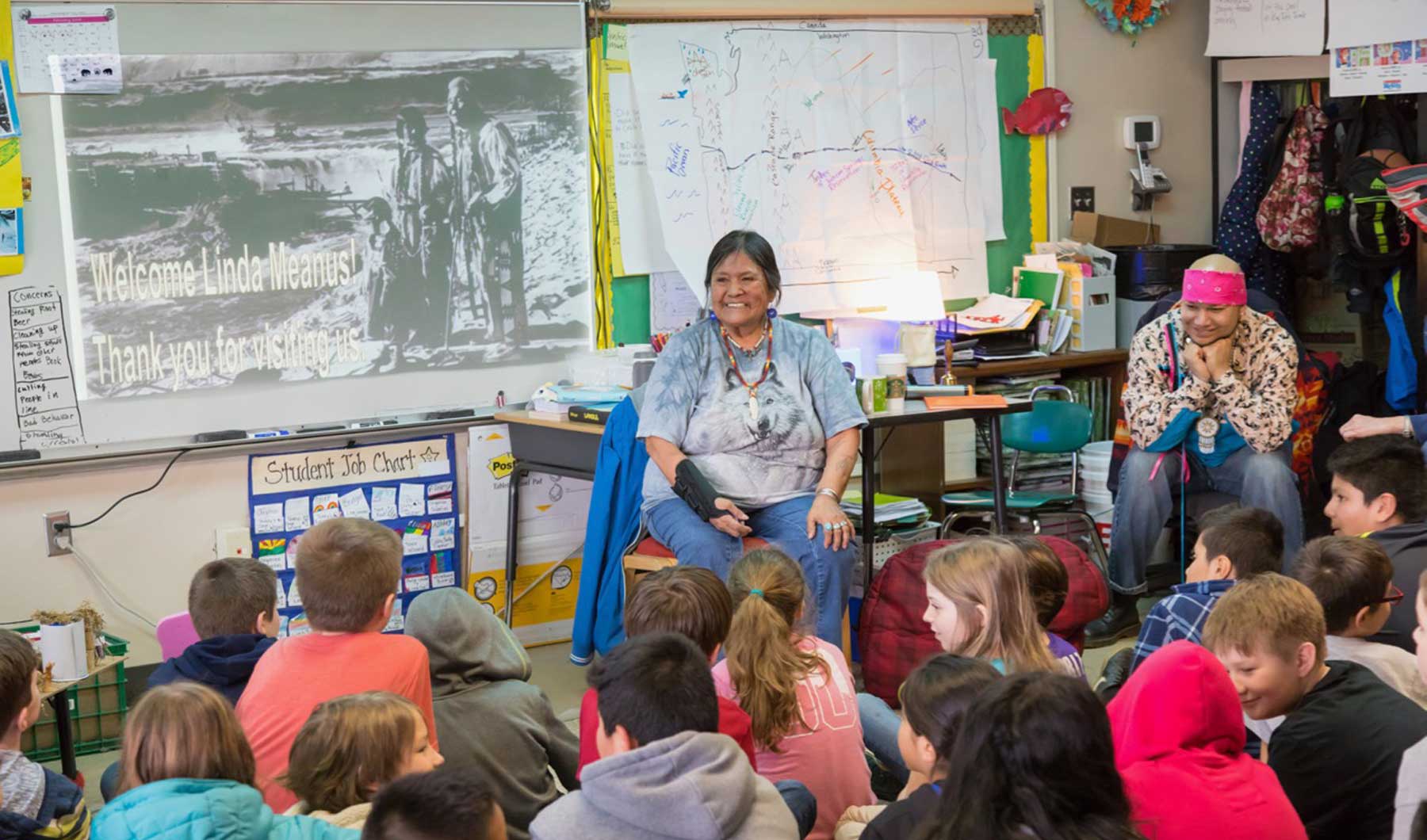 Warm Springs Elder Linda Meanus and Warm Springs educator Jefferson Greene at a school in Lyle, WA
Tamástslikt Cultural Institute in Umatilla. Gary Halvorson, Oregon State Archives.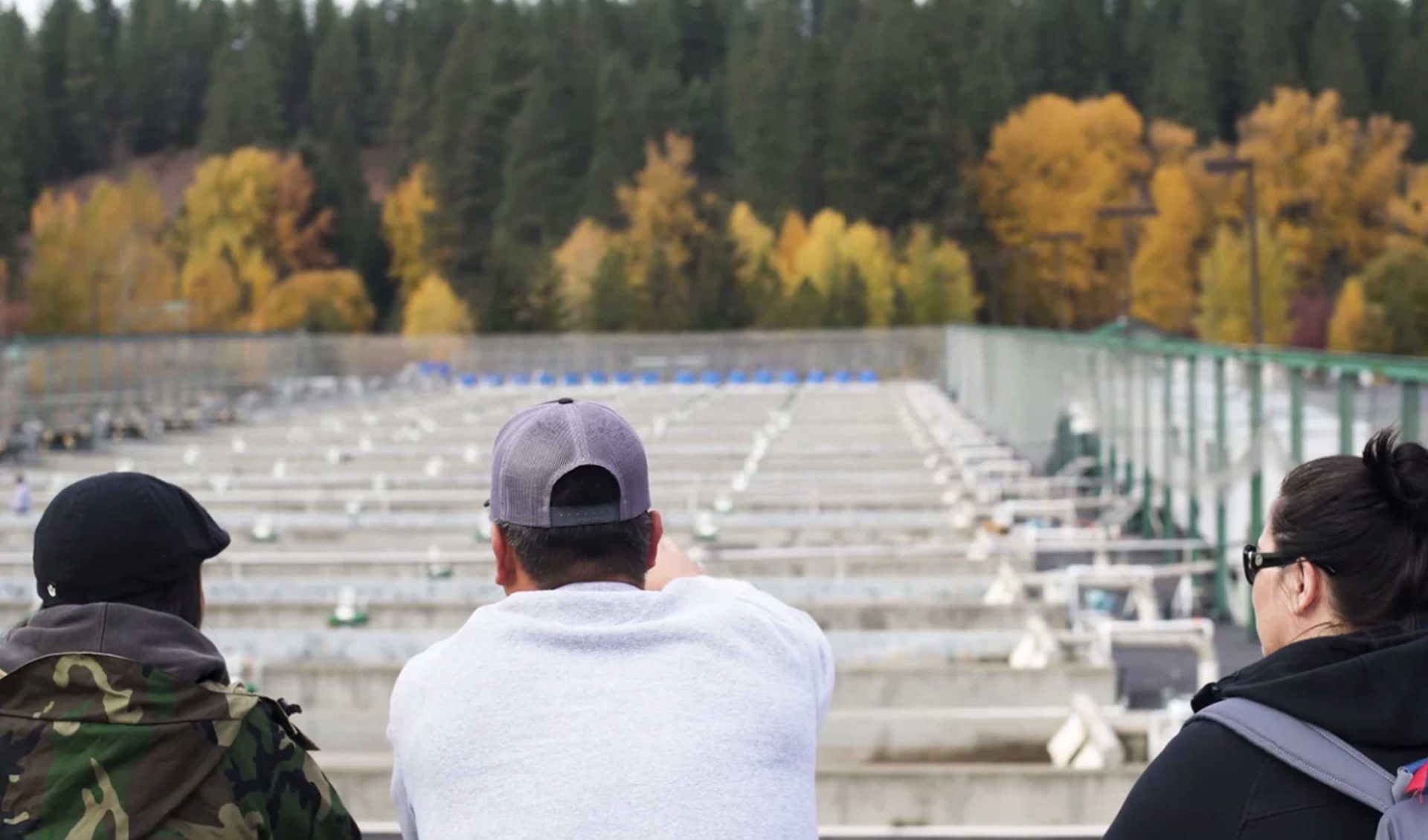 The Yakama Fish Hatchery.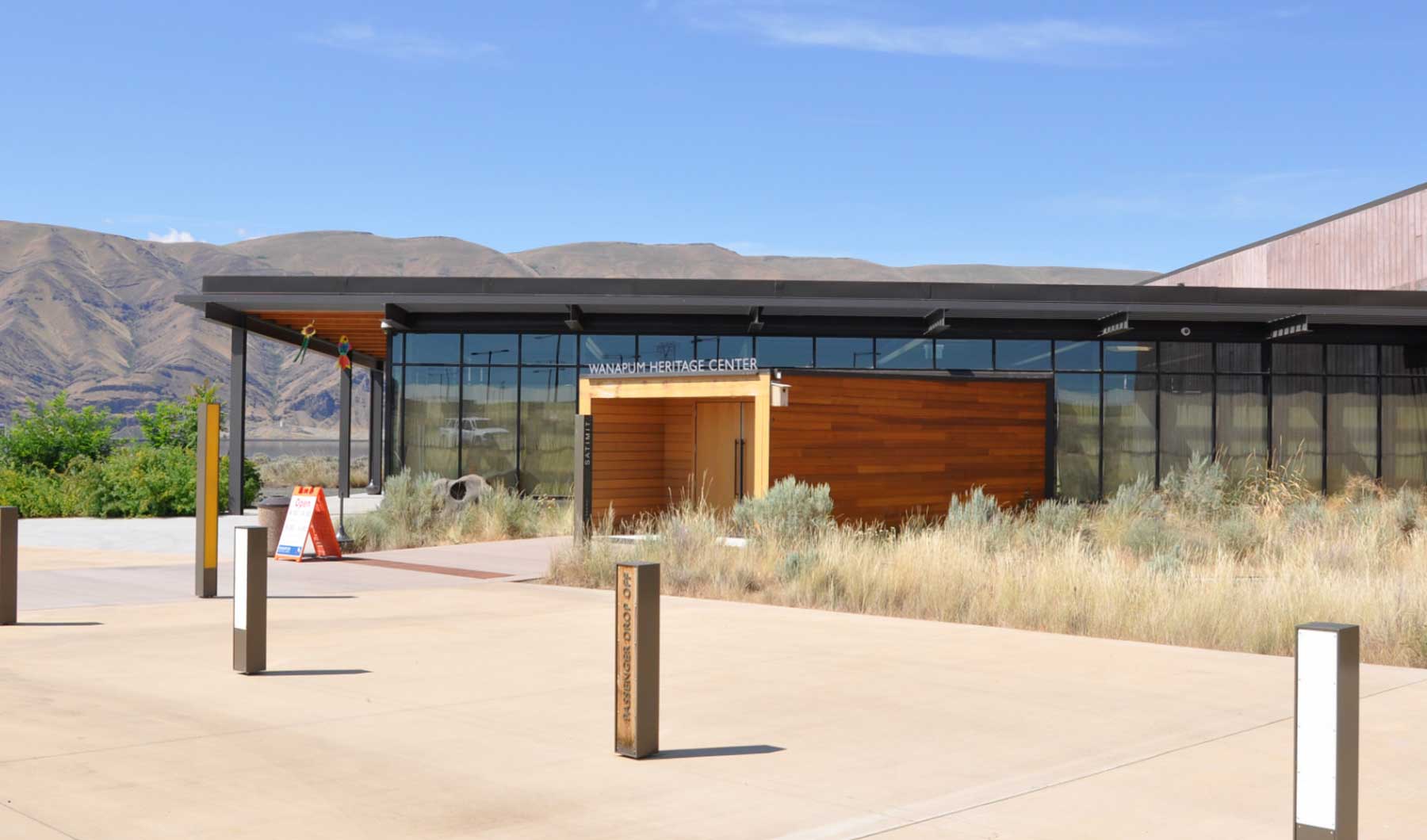 The Wanapum Heritage Center.
Nez Perce tribal members, including Horace Axtell (second from left) at the Chief Timothy site blessing ceremony.