Yakama Elders share that since time immemorial, the Yakama people and fish are intertwined. Tribal members traveled then like they do today, covering vast tracts of lands to gather, hunt, and fish at all usual and accustomed areas.
In the 1850s, more settlers were coming to the Northwest, and Washington was a territory and not yet a state. There was a sense of urgency to write out the terms for the areas of lands for Natives. Yakama Chief George Meninock shares here what he witnessed during the treaty negotiations of 1855:
If we give you possession of the lands, we will lose our rights to fishing the streams, but Stevens said "No, The Whites wanted only to farm and would never interfere with the Indian fishing at their old fishing places." But my father [Meninock, a Treaty Signer] said, "When we are dead then who will be witness to what you promise." Then Governor Stevens said, "I will write it down in the Treaty that you and your people have the right to take fish at these old fishing places."1
The Confederated Tribes and Bands of the Yakama Nation gathered in Walla Walla to sign the Treaty of 1855. 2 Article 3 of the treaty reserves the right to take fish at all usual and accustomed places.3 Governor Stevens stated to Kamiakin that "The Indian will be allowed to take fish…at the usual fishing places, and this promise will be kept by the Americans as long as the sun shines, as long as the mountains stand, and as long as the rivers run."4
This article explores how the Yakama Nation created a treaty rights strategy that included both legislative and judicial branches of government and advocated for the rights outlined in the treaty.
Of the early settlers, law professor Will Rodgers stated that they "…just went out and lived from nature…he [the settler] thought it was nature he was living off of, but it was really future generations he [the settler] was living off of…"5 Fishing was utilized differently between tribal fishers and non-tribal fishers. Salmon began to deplete in 1865 and, over the course of several decades, because of the increased demand for salmon to canneries.6 For example, as a University of Washington module explains: "By 1883, over 50 such canneries operated in the Columbia River basin."7 Before 1920, non-tribal fishers expanded from the Columbia River to the ocean, and, by the 1970s, they continued to expand past 200 miles of the U.S. coastline. Operations that overharvest salmon or threaten their habitat also threaten the livelihood of tribal members.8 Due to development along the river, there were also access issues for tribal members.
Since the late 1800s, the Yakama Nation has been to court numerous times for treaty rights concerning fishing. Their first landmark U.S. Supreme Court Case was U.S. v Winans, in which U.S. Supreme Court Justice Joseph McKenna reaffirmed for the Yakama people that fishing for salmon is "not much less necessary to the Indians than the atmosphere they breathed."9
Citations of Yakama tribal fishers at Top-tut (Prosser Falls, Washington) began in 1915 and started two lengthy court battles: State v. Towessnute (1916) and State v. Meninock (1921).10 From 1915–1921, the tribe lost two fishing cases related to Top-tut (Prosser Falls Fisheries).11 The court revisited these cases in 2015 and 2020. Why did these cases span 105 years?
Fish Wars
In 1915, Yakama tribal member Alec Towessnute was taken to county court, and then in 1916 to the State Supreme court, for fishing and lost his case. As a contemporary reporter put it, "Justice Frederick Bausman, using racist language, also disparaged the Yakama Nation, its stewardship of natural resources, and the idea of sovereignty in his ruling."12 For decades, the Yakama refuted this decision and said "This court characterized the Native people of this nation as 'a dangerous child,' who 'squander[ed]' vast areas of fertile land before our eyes."13
In 1921, the Yakama Nation again lost in the Washington State Supreme Court. The four defendants were Chief Meninock, Chief Jim Wallahee, and Al and A.J. Barnhardt. On January 27, 1921, Chief George Meninock said to the Court, "…It makes me sad that I have been able to accomplish nothing for my Indian people, and the thought that I may die without having secured for them their rights, will break my heart, but then God knows I did my best."14
The descendants of Towessnute and Meninock worked with Attorney Jack Fiander for years to clear their names for the record and to prove the Yakama fishers had secured rights for their people.15 In 2015, his great-grandson, Johnson Meninick said, "It's long overdue.…It took 100 years to clear his name, but my sons and grandsons still fish there at Prosser."16
Some fishing cases have been overturned since by contemporary courts. In 2014, the State of Washington created a process through HB2080 to overturn fish war convictions. "A crime was never committed, they [the convictions] should be expunged," said Senator John McCoy, referring to the imposition of state law over Treaty Indian fishing.17And through a 2020 Washington State Supreme Court order, justices decided to "repudiate this [1921] case, its language, its conclusions, and its mischaracterization of the Yakama people."18 In a powerful reading of the court's order, Justice Raquel Montoya-Lewis, who is a member of the Pueblo of Isleta and the second Native American to sit on a state supreme court said, "We cannot forget our own history, and we cannot change it. We can, however, forge a new path forward, committing to justice as we do so."19
If they lost the fishing cases, but their convictions were not overturned for over 90 years, how did Yakamas continue to fish at Top-tut without being taken to court?
In 1921, the Washington State Legislature passed a law that reaffirmed Yakamas' right to fish at Prosser Falls.20 Chief Meninock may have lost the Supreme Court case, but the Yakama Nation worked with Senator David Morthland from Yakima, who sponsored a bill that removed state restrictions from the Yakama Nation taking fish at any time.21 "It overwhelmingly passed the Senate and the House, even over-riding the Governor's Veto," said Yakama Historian Jo Miles.22 Miles went on to explain that:
The final law was passed March 10, 1921, with text that stated the law allowed for "any Indian belonging to any tribe of the Yakima Nation, who has maintained his tribal relations and who resides within this state, may take salmon or other food fish, by any reasonable means, at any time, at said Prosser Falls, for the use of himself and family, but this right is not to extend to others than such Indians.23
The strategy to obtain this is described in a 1920 writing by Lucullus "He-mene Ka-wan" McWhorter:
The catch of salmon at Top-tut, now known as Prosser, on the Yakima river this year was unusually heavy. Under the Treaty of 1855, it would appear that the right to take fish at this, their ancient fishing grounds, is assured the Indians, but a State law interferes…It is hoped that the next legislature will restore to the Yakima's their right to fish at Top-tut, built especially for them in the beginning by Speelyi. 24
How did the Yakama delegation meet with the Legislature? There is a historic 1921 photo with over 20 people on the state capitol steps in Olympia, Washington. There are eighteen Yakama tribal member; some of them are in suits, but most of the tribal members in regalia with beadwork and feathers. There are two non-Natives with this delegation: a woman stands in a fur coat and hat and a gentleman stands in a long overcoat. Sixty-six years after the Treaty of 1855 and two children of treaty signers are standing side-by-side: Kate Stevens Bates was the daughter of Governor Stevens, and Chief George Meninock was the son of Chief Meninock. I sought more information about the photo from Elders:
"In the photo, there are Native people dressed in suits and Native in regalia. Why are they dressed differently?" I asked.
"As I understand it, the ones in suits are interpreters," said Elmer Schuster, the grandson of Louis Mann, one of the men in the photo.
"Yes, I did know they had interpreters, but why five?"
"They wouldn't just have one interpreter; they would have several. One meeting in one room, another in another room," said Elmer Schuster.25
In the early 1900s, most Yakamas needed to speak through an interpreter, as the court and legislative systems were not designed to understand them. Even with language barriers, they persisted. In order to learn the English language during the violent assimilation era, Native people went to boarding schools. These Native interpreters exemplify the endurance of tribal culture through difficult times. The historic photos of Yakama tribal members in regalia at the Washington State Capitol demonstrate how the people are taught to work together.
History of the Area
The Columbia River flows to the Yakima River, which connects to Top-tut, an ancient fishing village site. Yakama Chief Jim Wallahee talks about Top-tut here: "When the salmon came from the sea, they would go up to this place where the water was shallow and in ripples so that the fish could be caught with our hooks, spears, and nets, so when an Indian got hold of a big fish there, he could land it without danger of being pulled in and being drowned in the deep, swift, high water."26
Place names highlight the intersectionality between Native people's history and the connections they keep throughout time. Significant place names in the area include, but are not limited to, the following:
Nch'i Wana: The Columbia River.
Taptíil: The Yakima River.
Chim-nah: The mouth of the Yakima River.
Top-tut: Ancient Fishing village in Prosser, Washington.
Yakitat (Yuk-ti-tut): Describes the way the river weaves through the Prosser stretch.26
Kiona: This describes a trail that goes over the hill. 28
Wanawish: Horn Rapids.
Lalíik: Rattlesnake Mountain.
Challenges to treaty rights sometimes connect to the government's attempts to limit Yakama sovereignty in different locations. The traditional foods on the ceremonial table often have an account about who gathered, hunted, or fished for the food and where. These cases provide examples of the frustration felt when those rights are not upheld. "Treaty negotiations have been debated across the country since first contact. Only modern history has begun to understand the depth of the tribal quest for sovereignty," said fishing rights activist Hank Adams.29 Since time immemorial, tribes have depended on fish. Chief Wallahee said, "That is why these accustomed fishing places which were created for the Indians were set aside in the treaty for the use of the Indians."30 In 1921, at seventy-seven years old, Chief Meninock said in Washington court:
"…your officers punished us for taking fish at the places reserved…you violate your Treaty and your promise…take this Treaty out of the grave where it lies buried in error, shake off the dust from it so you can see its words plainly, read it as the Spirit of Governor Stevens and of our fathers would want you to interpret it, as they understood it and agreed to it. Then hold it up high so all the people can know its truth."31
Food sovereignty includes a need to be prepared. In between these cases, we had the 1918 pandemic. This saw many people sick at alarming rates.
Chief Meninock shared about the inherent knowledge of our traditional foods, "…my Indian people, whose rights have been taken from them and who today, with tears running down their faces are sick and sad because they have been deprived of the food which gives them health and strength and life. For I say to you that our health is from the fish; our strength is from the fish, our very life is from the fish."32
Vision of the Elders
For decades, the families of those 1921 fishers sought to set the record straight. Even though the fishers lost the cases, they were able to simultaneously secure a fix, so Yakama people continue fishing at Top-tut. Their strategy specifically included multiple paths to protect the treaty rights. In addition, they worked as a team with other Natives and had important allies. During the 1855 treaty signing Governor Stevens told Northwest tribes, "I pledge the American[s] to keep this promise so long as the mountains stand, as long as the sun shines and as long as the river runs."33
Those fishers made sure this promise was kept.
"Think of the vision of our Elders of that time, to continue to protect the fishing rights for those not yet born," said Tony "Kywamat" Washines, a descendant of Chief Meninock.34 Chief George Meninock was fifteen when he listened to the treaty negotiations and over seventy when he was asked to share his account.
Still today, Native Elders ask the younger generations to remember our treaty rights and how they connect to the foods and different places. There is strength in believing in our youth. This is a teaching that continues to echo for many generations.
In 1921 Chief Meninock said, "My father when he was about to die, charged us to abide in peace and live up to the treaty and we have done so all our lives."35
This article reflects upon the vision of Yakama Elders in illuminating a policy pathway while ensuring future generations' fishing rights at one of their usual and accustomed places.
References
State v. Meninock, 115 Wash. 528 (1921). National Archives, Pacific Alaska Region, Seattle, WA. Note: An alternate spelling of Meninock is Meninick.
In 1994, the tribe changed their name back to Yakama Nation, from Yakima Nation, to reflect the historic spelling.
Yakama Nation Treaty of 1855, June 9, 1855 12 Stat., 951. Ratified Mar. 8, 1859. Proclaimed Apr. 18, 1859. www.yakama.com/about/treaty.
Ibid.
JC Dupris, K.S. Hill, and W.H Rodgers, The Si'lailo Way: Indians, Salmon and Law on the Columbia River (Durham, NC: Carolina Academic Press, 2016), 12.
Office of the Superintendent of Public Instruction – OSPI. Overview of Federal Indian Policy, 7 October 2008, 1.
"Salmon in the Pacific Northwest and Alaska Collection, 1890–1961," UW Special Collections, University of Washington. https://content.lib.washington.edu/salmonweb/index.html.
JC Dupris, K.S. Hill, and W.H Rodgers, The Si'lailo Way: Indians, Salmon and Law on the Columbia River (Durham, NC: Carolina Academic Press, 2016).
U.S. v. Winans, 198 U.S. 371, 381 (1905).
State v. Towessnute, 89 Wash. 478, 154 Pac. 805 (1916); State v. Meninock, 115 Wash. 528 (1921).
Alternate spellings for Top-tut include Táptat and Toptut.
D.W. Meyeres, "State Supreme Court Vacates Racist 1916 Ruling in Yakama Fishing Rights Case." Yakima Herald-Republic, July 10, 2020.
State of Washington v. Alec Towessnute. Order No. 13083-3. Olympia, WA, 2020.
State v. Meninock, 115 Wash. 528. For interpretation during this time, God and Creator are used interchangeably.
K. Prengaman, "Court overturns nearly century-old conviction for fishing at traditional Yakama location." Yakima Herald-Republic, November 13, 2015.
Ibid.
A. Gobin, "Fish Wars convictions cleared," Tulalip News, March 11, 2014.
State of Washington v. Alec Towessnute. Order No. 13083-3. Olympia WA.
State of Washington v. Alec Towessnute, 2020.
An act providing for the regulation of fishing at Prosser Falls, in the Yakima River, in Benton County, State of Washington, by Indians of the Yakima Nation, claiming rights under a certain treaty made with the United States on June 9 , 1855, and by any other person. Wa. S.B 521.
Jo Miles, personal communication, 2019.
Ibid.
Ibid.
L. McWhorter, The Discards (United States, 1920). Note: Speelyi refers to Coyote.
Emily Washines, "Historic Examples of Treaty Rights Interpreter Louis Mann," Native Friends, January 28, 2019, https://nativefriends.com/blogs/news/historic-examples-of-treaty-rights-interpreter-louis-mann.
W. Moquin and C. Van Doren, Great Documents in American Indian History (New York: Da Capo Press, 1973) 299.
J.D Shellenberger, personal communication with Emily Washines, 2022. Place name as told to Shellenberger by Yakama elder Johnson Meninick in 2016.
Ibid.
Hank Adams, personal communication with Emily Washines, September 3, 2020
W. Moquin and C. Van Doren, Great Documents in American Indian History (New York: Da Capo Press, 1973) 299.
State v. Meninock, 115 Wash. 528.
Ibid.
Ibid.
Tony Washines, personal communications, 2021.
Ed. Moquin, W. Van Doren, C (1973). Great Documents in American Indian History. ( New York, NY: Da Capo Press), 298.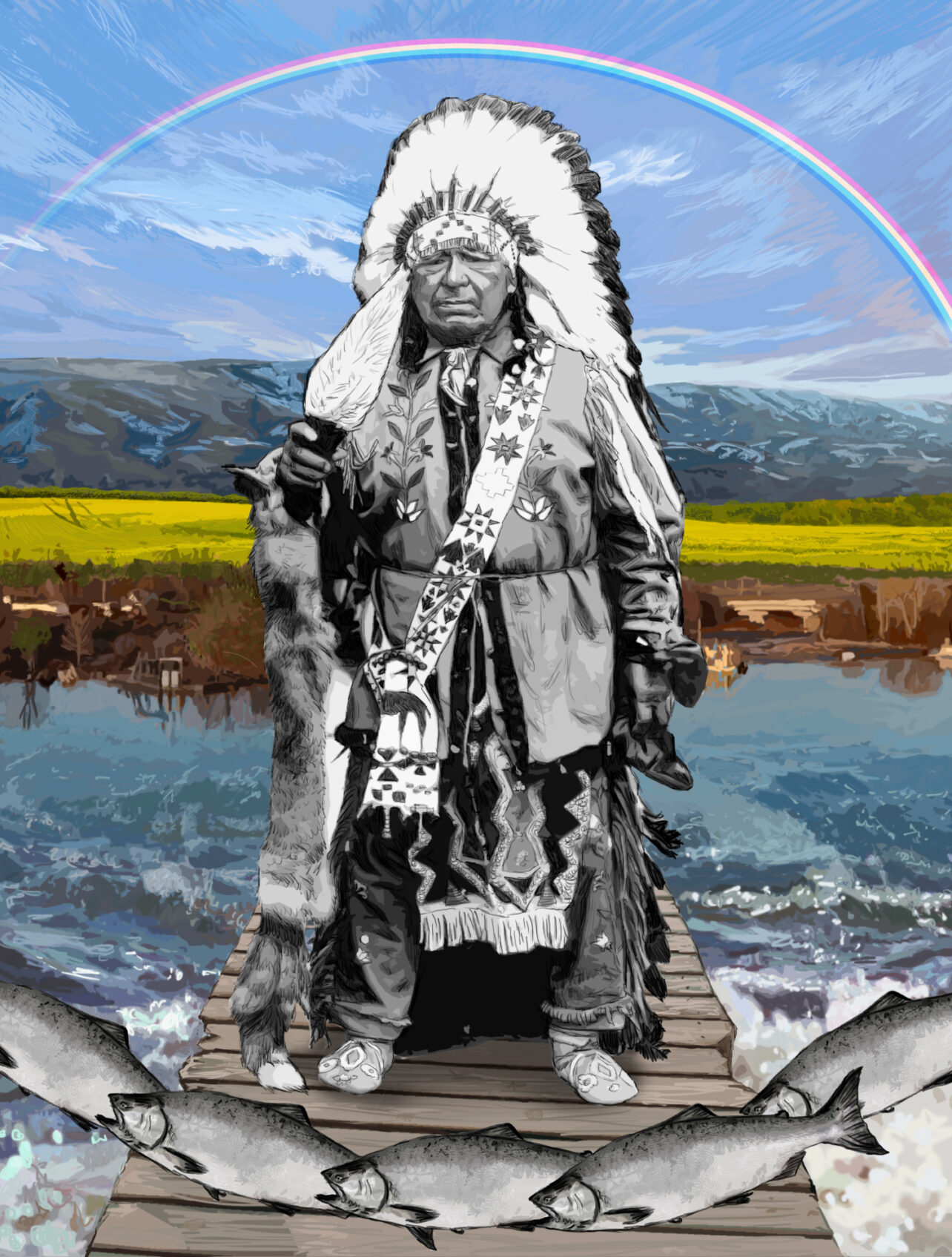 Left: Artwork by Tom Greyeyes, based on a photo of George Meninock.