Tributes to Jane Jacobsen
Since the sudden passing of our founding director Jane Jacobsen, the outpouring of love and grief has been overwhelming. So many friends and colleagues have been sharing their memories of Jane. She was a bright light and could seemingly move the earth with her tenaciousness and charm.
We invite you to share your memories of Jane here, including photos. We will pass them along to her family, and if you are comfortable, also post them online on this page.

Memories of Jane
Jane was one of the warmest and most dedicated and caring of persons. It has been a wonderful and enlightening experience working on the Confluence project with her. We have lost a kind and generous spirit who gave so much of herself to Confluence — and who will be deeply missed.
– Maya Lin
Jane was an amazing person. She valued connection and radiated warmth in everything she touched. Our community benefited greatly from her innovative, and sometimes unconventional, contributions. The world shone brighter with her in it.
– Katherine Cory
I so admired anyone whose passion was to learn how to play the trumpet at 50. Her cheerful nature, enthusiasm and commitment to Confluence made her a pleasure to be around. Always appreciated a good story and joke. She made car travel in those early days an entertainment venue. I'm sure you've heard how the project got started but I like the reminisce. Antone at lunch told me he'd just watched the Maya Lin Documentary the night before. We were working with the Regional Round Table on the Bi-centennial and sesquicentennial of the Treaty of 1855 which coincided in 2005. I don't think Jane was involved yet. In 1955 the "convergence" (Nicandri speak) had been a major event in Walla Walla. This time the event was to be from the Indian perspective. Antone wanted a legacy project and ask me how we could get someone like Maya Lin involved. We talked about projects along the Columbia where the tribes and Lewis and Clark had met. He ask me to call David Nicandri. Right off Nicandri said "now there's a convergence" I just got a call from Pacific County with the same idea. Nicandri was all about convergences in those days. I got out a map of the Columbia and circled the confluences of the Snake and Clearwater, Snake and Columbia, Columbia and Deschutes, Columbia and Willamette and mouth of the Columbla. I titled the map "Tceminicum" which means come together in Nez Perce. That never caught on so it just became the Confluence Project and Jane took over full steam ahead.
– Regards, Jim Beard
We are all so fortunate to have Jane as a friend. Jane was a powerhouse of good. I have never met someone who sought out positive solutions like Jane. If you had a challenge, it became her challenge and she stepped forward to offer any assistance to resolve an issue. She also was a magnet. She knew how to seek people out and draw them towards her and the projects she was so very passionate about working on. That is how I came to know and work with Jane. Our world is at a loss as she moves on in her journey to the next world. I will miss her.
– Chuck Sams
How sad, she was always so nice and it's because of her great personality made it easy to talk to about anything. What a tremendous loss for our community to have such great person that was not only was she an awesome friend, but a tremendous asset for all of us to learn from with her experience and will miss her fun sense of humor too.
– Marcus L. Luke II
Jane was the ultimate teacher. She taught us what true vision and tenacity of purpose can do. She taught us about the human potential for good, and that faith in that potential is the wheel that turns the world. Jane's generosity is legendary- but it was her generosity of spirit that lives on in each person lucky enough to have crossed her path. We now have our own paths to build with her memory in mind. She was my teacher. She still is. For this I am forever grateful.
– Aili Schreiner
Ahhh, Jane the minute you hired me to be your assistant in 2002 I knew we would be hitched at the hip. The most memorable time over 23 yrs was our road trip from St. Louis to Vancouver in a Penske truck. Jane driving with beloved Bob Friedewald sitting between us. We laughed over our sons during the interview. And shared her vision of Confluence. The most touching was sharing stories of Ben and Gabe when Paul was in Med School and she was baking bread EVERY week.
– Shirley Powell
What fun it was working with Jane! Always a smile, always a hug, always "it will be alright" no matter the obstacles we faced. I had the pleasure of working with Jane as a consultant (Cogan Owens Greene) on four Confluence projects, all of which faced innumerable challenges. Jane was the thread and the energy that held them together to successful conclusions. She will be truly missed. Seldom do such positive spirits cross our paths.
– Jim Owens
At lunch today May 25, 2021 in the dining room of our Senior Living compound, I heard the name Jane Jacobsen being discussed by diners at the next table. I asked the lady if she knew Jane Jacobsen, and so heard wonderful stories about her. I met Jane on several occasions and was fortunate to be on a Committee, which she frequently attended. I knew she was special. I was surprised that a neighbor knew her, so it may not be possible to know how many people Jane influenced. Inspiration is surely one of the many gifts she leaves to the citizens of this area. As we say in our Cowlitz world when a loved one joins the Ancestors, "May she soar with eagles and may we find comfort in her flight."
– Tanna Engdahl
I met Jane Jacobsen in 2007 when I applied for a part-time Project Coordinator position with the Confluence Project. That interview was one of the most unusual, and yet, refreshing experiences I can remember. This woman, who didn't know me threw her arm around my shoulder and said, "I've heard you have a sailboat that you've taken around Vancouver Island. You're hired!" That was Jane…exuberant, joyous, generous, hilarious and unstoppable. She loved challenges and never gave up. She will be missed so much. But, we must all take to heart that somewhere in heaven Jane Jacobsen's driving a truck full of artwork and joy to the stars.
– Judy Odenheimer
Jane was an incredibly warm-hearted and powerful bridge who helped create the foundations of connection between Western and First Nations People of the River. Since picking me up at the airport as a landscape architecture graduate on a travelling Fellowship in 2010, to my most recent visit in 2019, her energy has inspired my life and work. Now we carry on her and other's dream of unity and understanding. Much love to the Confluence family at this time.
– Matt Skyes
I fondly recall having dinner with Jane after a symposium at WSU-Vancouver. She was passionate about the Confluence Project, and the larger issues it addresses, but also funny and eager to laugh. At one point, as were talking about her son's natural salt company, she made an impromptu "commercial" on her phone with me playing The Most Interesting Man in the World (a la the old Dos Equis ads) and saying "I don't always use salt, but when I do, I eat Jacobsen's." It was a totally random moment of joy in the midst of a serious conversation about how the past informs the present and the future. It has been amazing to watch the Confluence Project grow and begin to deliver on the promise she always saw in it. Not only the art installations along the river, but the online content that is preserving and disseminating the wisdom of Native elders and leaders in the Columbia Basin, created in the spirit of consultation and partnership; these are all part of Jane's legacy to the people of the Northwest.
– Andy Fisher
I meant Jane when Confluence first started and I was invited to be part of the school that was like 10+ years ago and I worked with Jane for 67 years after that always a smile always positive always a go-getter always a brilliant bright spirit and soul connected to everything good that this world has to offer may her spirit rising always be part of the universe her memories will stay with us and the Confluence at the Dalles High School forever.
– Peny Wallace
Jane was such an inspiration to me, and I always looked forward to catching up on the latest and greatest happenings with her and the Project. She had this fun and delightful way of relaying the most challenging of situations, often followed with a clever plea that invited you into her grand scheme. The first time I met Jane, it was this candor and upbeat attitude that hooked me on all things Confluence. Year after year, her ongoing dedication to the Project carried me further along, I was always wanting to do more and would assist in any capacity I could. She exuded this special mix of belonging, playfulness and drive that made me a lifelong fan and follower of everything Jane aspired to. It is perhaps her time and distanced covered, like the Columbia, I will always think of Jane as eternal and flowing, and very much intent on finding her way.
– Brian Boram
Jane made you feel like you were the most important person in the room. So warm, so welcoming, whether you were attending an event at her home, ran into her at a conference, or were at the grocery at the same time. A remarkable human being with great intelligence, compassion, and vision. Her many contributions to the world of cultural heritage will remain as a lasting tribute to her, as will the wonderful memories of her family, friends, and colleagues.
– Holly Chamberlain
When Jane got an idea or inspiration there was no forgetting it. She was the most persuasive charmer I ever met. I remember when she convinced Washington D.C. officials the Vancouver area needed to have the surviving Lewis or Clark compass for 6 months to display during the 2006 L&C Bicentennial. I recall Jane regaling local people how they should visit all the features of the Ft. Vancouver National Historic Park not just on holidays but frequently. I was fortunate to enjoy Jane and Paul's home hospitality several times and watched her 'work a room' then go into the kitchen to work on food preparation. She had a sense of humor and deployed it at just the right moment. She valued family and it was a delight to hear her brag about them. Her attitude about life and how things could be better was infectious. I will never forget this wonderful woman.
– Gayle Rothrock
Without Jane Jacobsen and Maya Lin there would not have been a confluence project. The methodology that has been established story telling et al is so important and I see it being adopted by other groups, like those that have been devoted to saving the salmon and involve the northern part of this state and Alaska who I believe have also been influenced by Confluence, Congratulations, and of course the story telling is just at the beginning.
– Fritzi Cohen
Before the Lewis & Clark Bicentennial, a group on the Long Beach Peninsula was planning trails, public art, perhaps more parks, and thinking, hmm, what if we could get Maya Lin to design the art? Thanks to Gary Locke, Sid Snyder and several others, our coastal group learned that there was this ebullient, dynamic woman named Jane doing the same planning in the Vancouver area, and we all got together. The first time I met her, I thought this is the woman that the term "blonde bombshell" defines! She was dynamic, positive, creative, thoughtful, and never stopped thinking and planning and moving. It was an honor to serve on the Confluence board with her. Thanks to this project and others, out of the bicentennial planning came a new national park and multiple park sites. It's changed the way visitors come to the Columbia coast and see our parks, and much of this is directly due to Jane.
– Kathleen Sayce
Jane was a friend, a colleague, an inspiration, and a visionary. From her, I learned to dream big, and then bigger; as she saw the world of the Confluence Projects, everyone had a part in the idea and the story, and she always made people feel welcome in the circles of discussion, fund-raising, and story-telling. As I walk the trail of the Corps of Discovery, and share their history with others, I always keep Jane in mind! Barb Kubik–Historian Lewis and Clark Trail Heritage Foundation.
– Barbara Kubik
Jane was a great customer for many years and a pleasure to work with and for. Always upbeat and kindness that was ineffective, Happy and lovingness surrounded her presence. I only found out today 6/21 that she had passed, my condolence extends to her family and friends as well as my regrets for those that did not get to know this GREAT LADY! Great sense of humor and personal CHARISMA, I will miss her as will everyone who had the pleasure to know her! World lost a great Lady, vary sorry for family and friends. H.Lee Hanson( ICU window cleaning ) one of my Favorite customers. Goodbye from Lee.
– Harold Lee Hanson
I knew Jane through her work at the Grant House. I remember going to her home and her amazing energy. My favorite story though was when Bill Clinton came to Vancouver for a re-election campaign rally. He and Al Gore were running very late, so the whole group had been waiting a very long time, so folks were getting tired. They finally showed up and gave their speeches, the crowd fired up, then Bill spotted Jane's Razorback hat. He called her up to the fence, took her hat and signed it. From the whole crowd, she was the one he noticed. I gave her a high five and we all enjoyed her moment with President. She was very special.
– Julie Jensen
Every single time I spoke to Jane she was full of warmth, praise, encouragement, enthusiasm, wisdom, and thoughtful leadership. There was always part of me that wondered, "Are you for real?" But I also know that consistency is a hallmark of authenticity and I learned over time with Jane what you see is what you get. For Jane, it was the relationships she built that were most important. Jane created spaces, whether that was the Confluence sites, a waterfront development, or her kitchen, or a coffee shop, she created space for people to build something together. For me, Jane is a model for how to live life well and how to lead with the biggest of hearts. We honor her by carrying that practice with us every day. More than anything, I wish Jane were still with us here today. But I am better for having known her and I know we can all say the same.
– Colin Fogarty
There are few individuals in this world who can command everyone's attention, especially through their kindness, love, and laughter. When Jane cast her gaze upon you, you knew that she was focusing completely on you. I know that I am not alone in recognizing her amazing gifts at putting others at ease and making all feel welcomed and heard. Her effervescent spirit enveloped you and you felt heard and supported. Her gift to our community is, of course, all of her incredible accomplishments and projects, but she is so much more. She helped cultivated a loving, caring community and we are all the better because of her. Jane encouraged so many to be giving, caring, empowering, and serving leaders. Jane had tremendous heart and an unstoppable desire to do good. What an amazing, inspiring woman! I miss her each and every day.
– Tracy Fortmann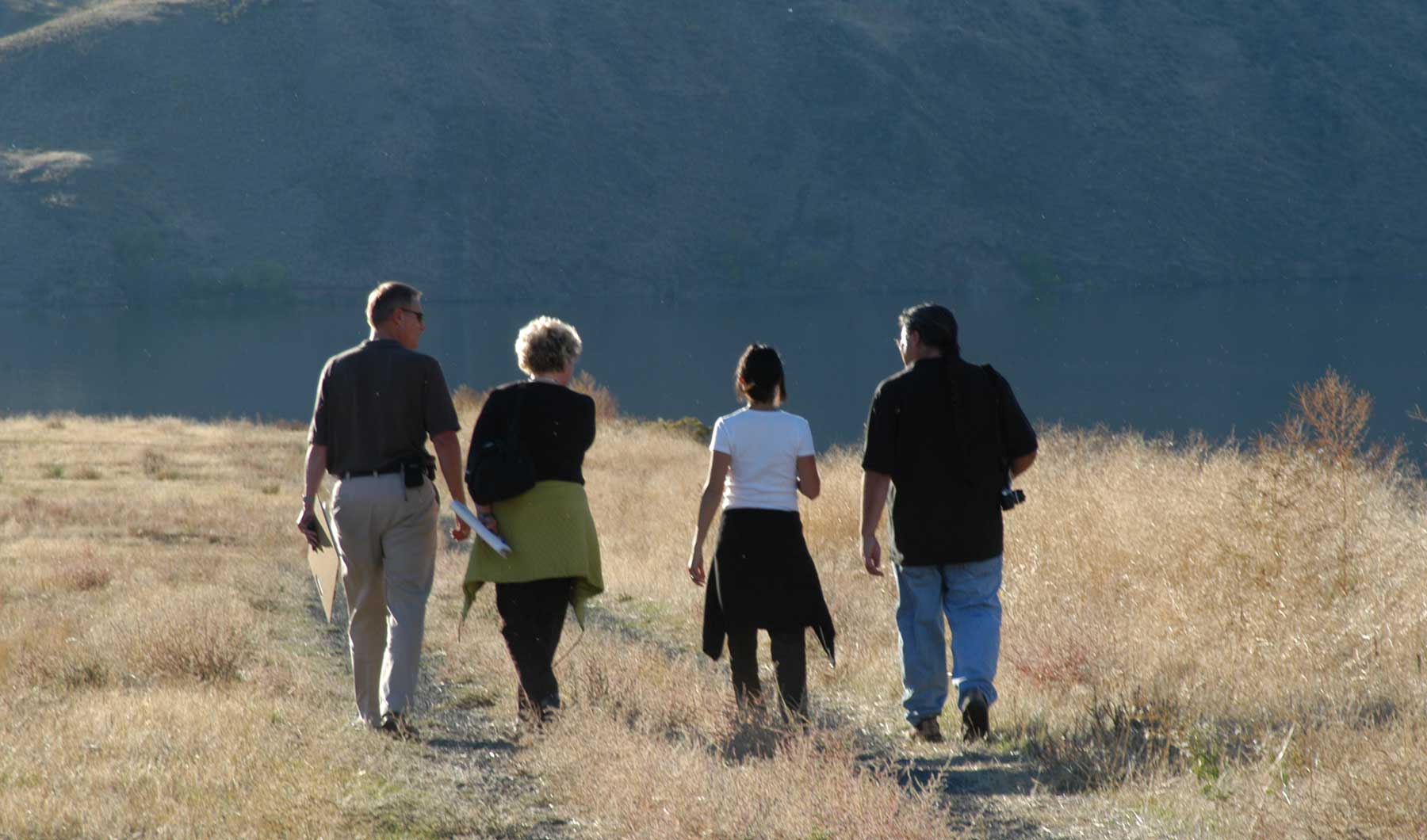 Jane, Mike Abbate (Greenworks), Maya Lin, and Brian McCormick (Nez Perce, landscape designer) at Chief Timothy Park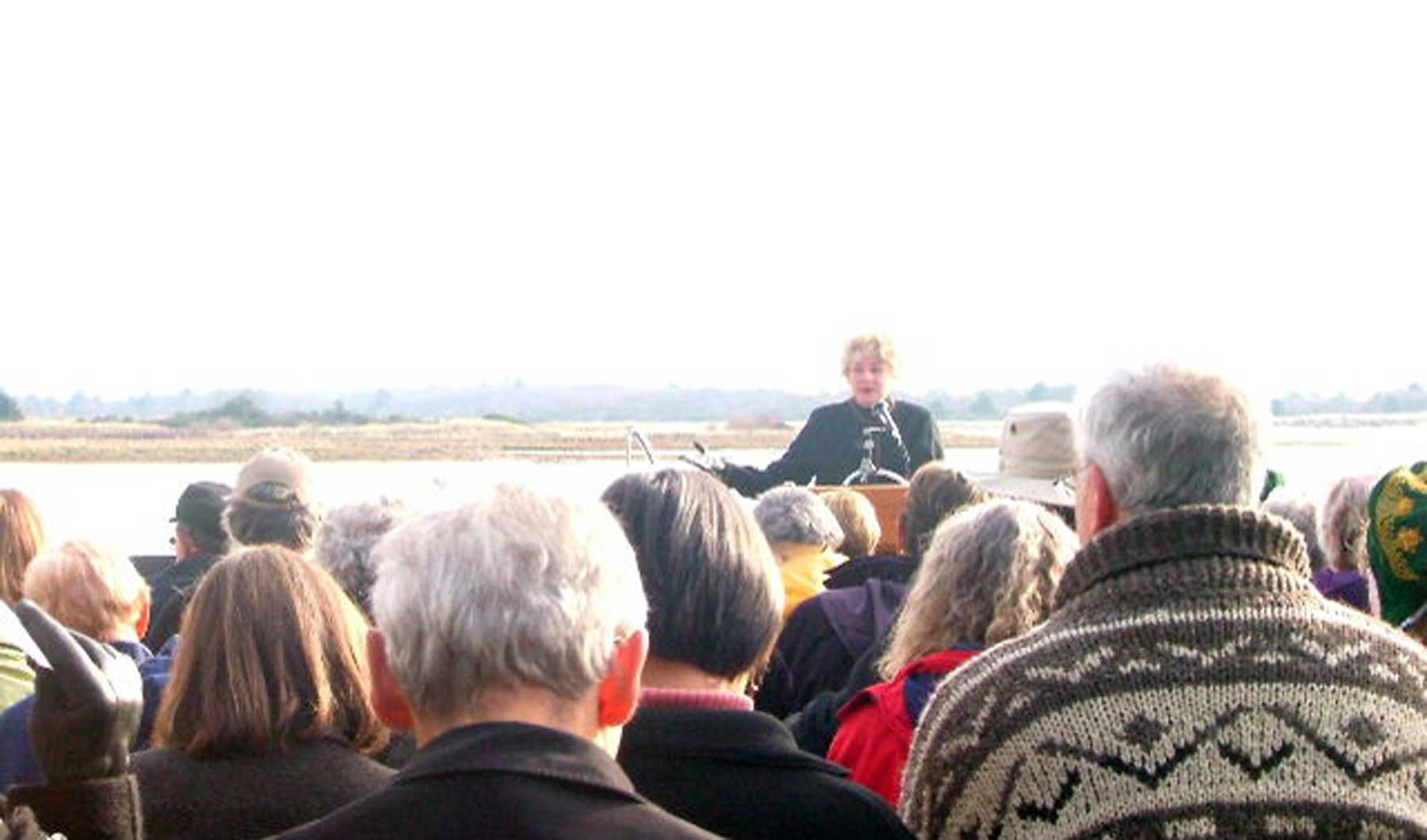 Jane Jacobsen at the Cape Disappointment site dedication
Jane at the 2018 Legacy Maker Dinner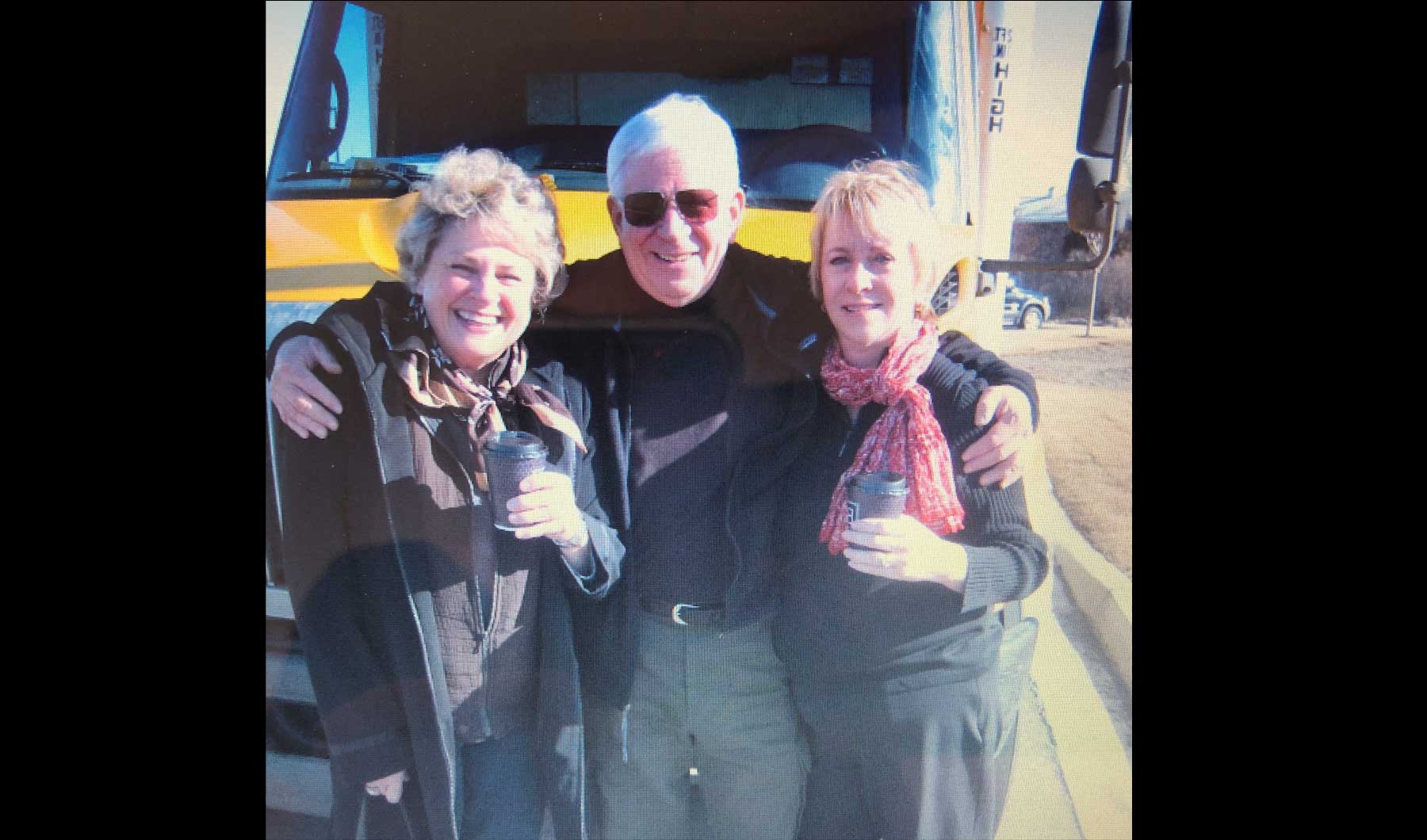 Submitted by Shirley Powell
Submitted by Judy Odenheimer