View the full agenda here: OCS Agenda 2.2022 
If you have any questions, you can email bekah@mmt.org As a reminder, if you haven't received your gift you can send your address to bekah@mmt.org to receive one
TECHNICAL INSTRUCTIONS
We encourage you to visit and bookmark the landing page before the summit. Thank you!
CHROMEBOOK USERS: Unfortunately, Zoom Events is not set up for Chromebooks. Please use an alternative device (any other computer or a phone.)
ALL OTHER USERS:
You must sign into Zoom with the account you registered for the Event with.
Zoom guide: https://support.zoom.us/hc/en-us/articles/4404105243405
Before you begin:
Make sure you have the Zoom app downloaded and installed on your computer or phone.  
Click here to find your computer app.
ACCESSING ZOOM EVENTS AND FINDING YOUR TICKET:
Make sure you have the Zoom app downloaded and installed on your device. You may need to update Zoom. To download the Zoom app follow the links below. 
For iPhone: https://apps.apple.com/us/app/id546505307
For Android: https://play.google.com/store/apps/details?id=us.zoom.videomeetings 
For computers: https://zoom.us/download 
LOG IN STEPS:
If you already have your ticket and are signed into Zoom, you will just need to click on your ticket, and then you'll be prompted to join the lobby.

If you do not have your ticket pulled up – Open the Zoom program/application on your device. Sign in with your email address associated with your ticket. If you are already signed in, make sure it is with the account associated with your ticket (this message was sent to the address you used to register for OCS or the address you received a confirmation email from Zoom).

Now find the email from Zoom Events that contains a link to "View Ticket"

OR

visit

events.zoom.us

and log in with your Zoom account and find the "Tickets" link in the upper right hand corner, click here, then you should see the Oregon Collective Summit.

Once you join the event lobby within the zoom app you can find and join sessions by clicking the "sessions" link on the left
You can either access your ticket via your confirmation email or by logging into your account at events.zoom.us
Detailed Login Steps with Screenshots
Via Email
Find your confirmation email and click "View Ticket."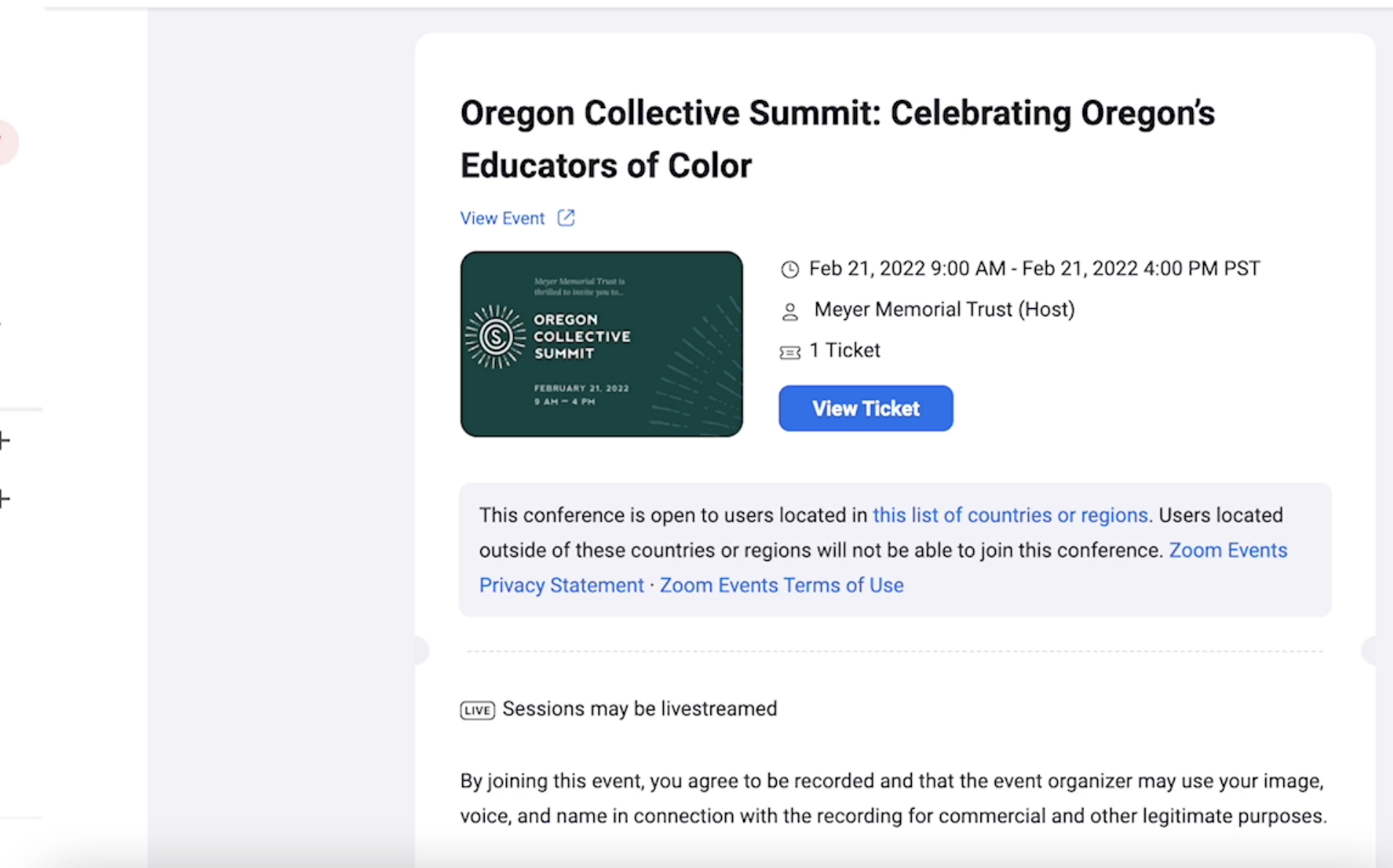 This will open up your Ticket. Click Join Lobby. This will open up the Zoom Lobby (tips for navigating it are further down).
Through events.zoom.us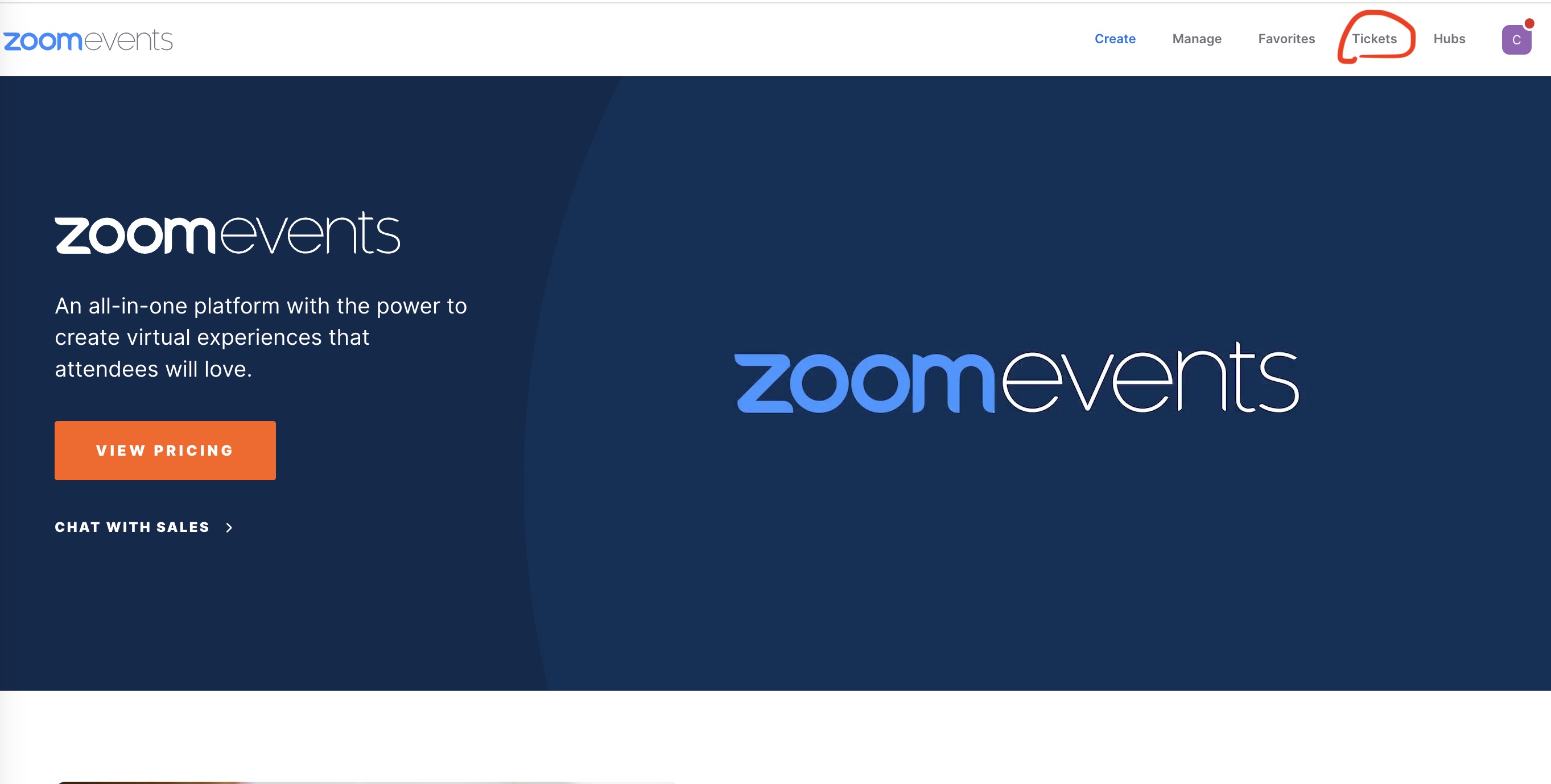 Click "Open zoom.us" or Join Lobby

 You'll see the event listed. Click join lobby.

Tips for Navigating the Lobby
Zoom will open the Event Lobby once you click Join Lobby.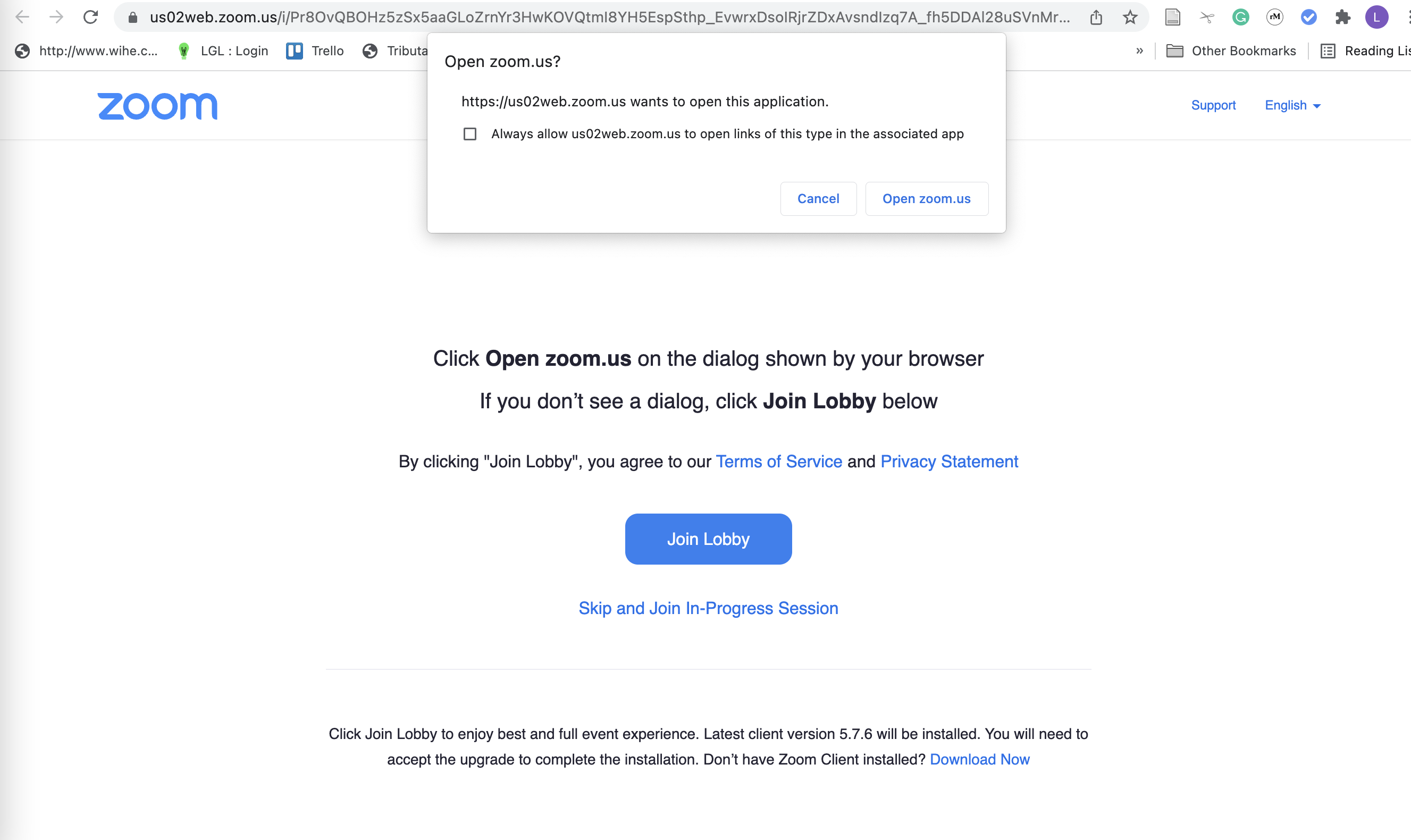 This is the main page.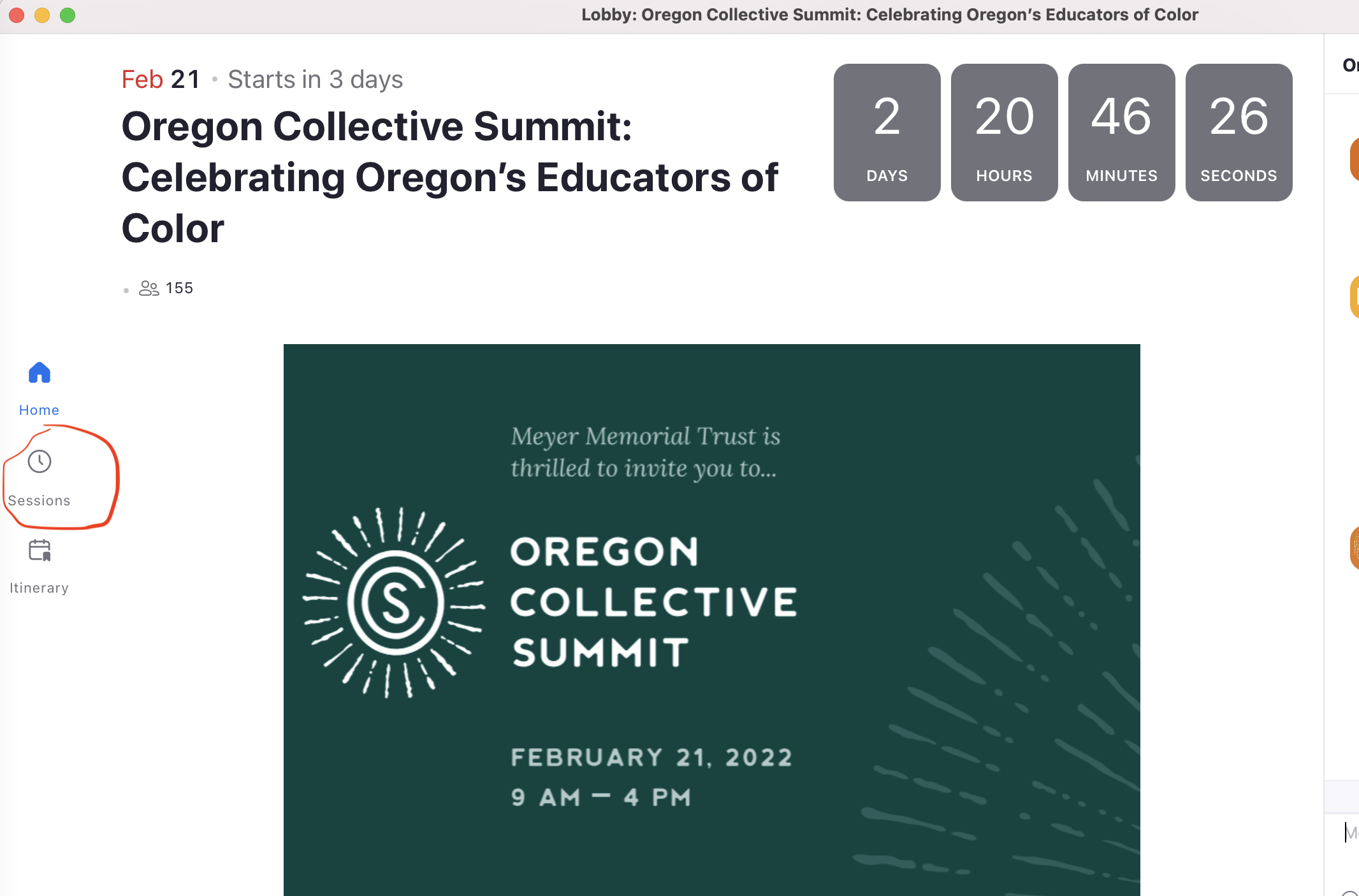 Click Sessions on the left-hand side and find the Session you wish to join.  
Click Join on the session you wish to join.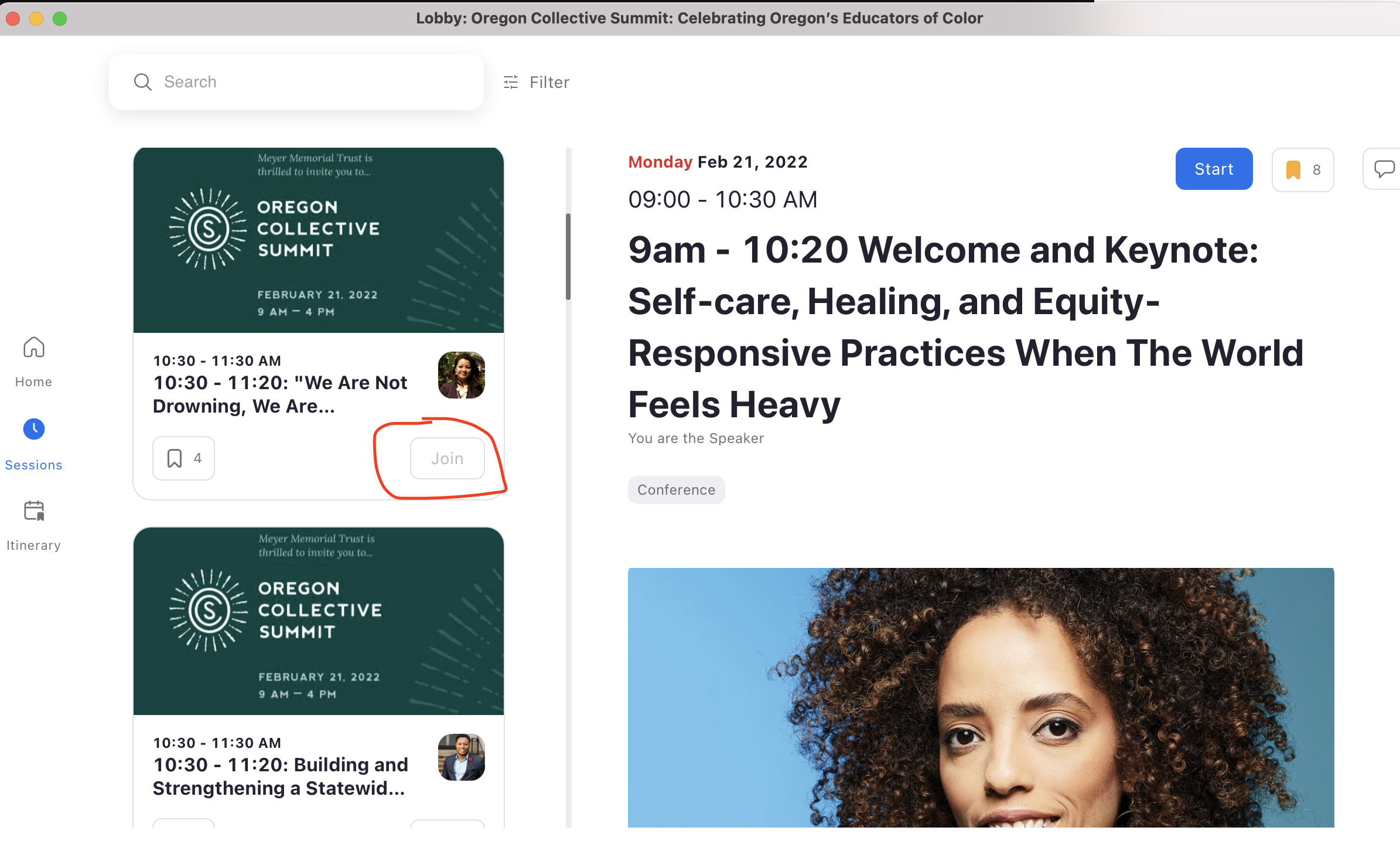 You will now be taken into the session.